Tree Talks: Wood Sectional. Musarc joins Architecture on Stage at the Barbican, 25 January 2023, 7pm
Workshop Programme
5—24 Jan 2023
School of Art, Architecture and Design, LondonMet
ARCHIVE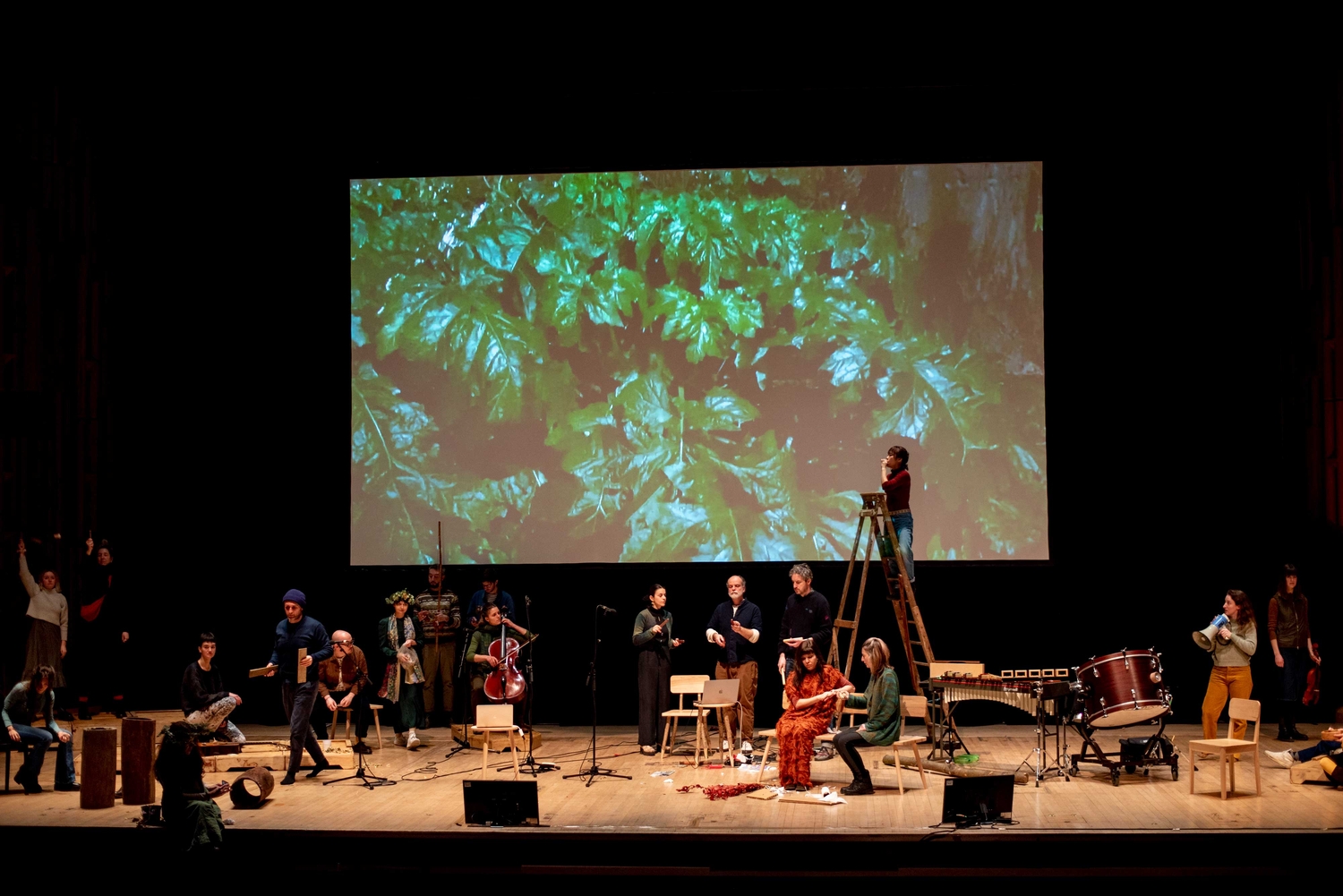 The whole stage as a foley table: Musarc performing at the Barbican, 25 January 2023. Photo: Matthew Blunderfield
On 25 January 2023, Musarc joined a stellar line-up of architects, artists, foragers, makers, historians and activists to open Tree Talks, the first in a series of talks on the cultural and environmental role of the tree in the city. Hosted by the Architecture Foundation as part of its Architecture on Stage programme at the Barbican. Curated by Judith Lösing, the Architecture Foundation's first Research Fellow.
*
Tree Talks is the first in a series of three events that explore the cultural and environmental role of the tree in the city. The event acts as the starting point for the London Arboretum, a new programme of residencies, talks and publications around trees in the capital conceived by Judith Lösing, director at East and the recipient of the first Architecture Foundation Research Fellowship.
The project conceives of London as a vast arboretum – a collection of trees traditionally brought together for purposes of research and display within the confines of a garden or park. In the context of the city and on a much broader, sprawling and dispersed scale, such a collection allows us to ask questions around habitat, growth and decay, the spatial and architectural form of trees, their metabolic, symbolic and mythical role, their value and life cycle, or their journey along colonial lines.
Taking these questions as a starting point, Musarc worked through a process of collective association in the development of a performance lecture that turned the Barbican's stage into a vast foley table: a sonic tree essayism of objects, moving images, ideas, voices and sounds, created and animated by the choir. Wood Section is developed by members of the ensemble with Musarc's creative director Joseph Kohlmaier and percussionist Angela Wai-Nok Hui. It plays when the doors open, and marks the beginning of Tree Talks.
Video by Joseph Kohlmaier/Musarc. Footage by members of the ensemble and sounds from our rehearsals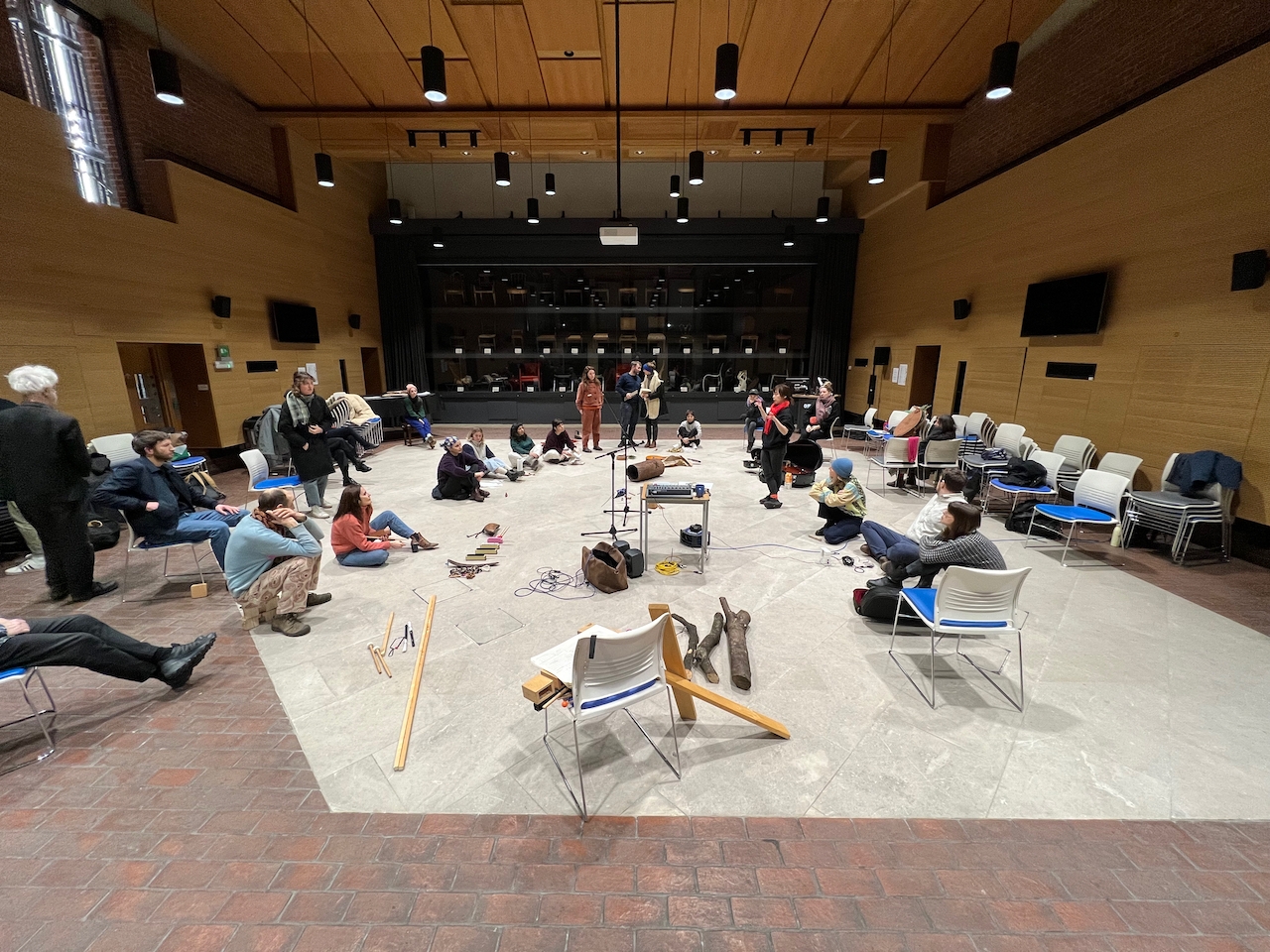 Musarc rehearsing with Angela Wai-Nok Hui at London Metropolitan University, January 2023
Footage, sounds, ideas, words by the ensemble: Agnieszka Cybul + Anastasia Glover + Anna Schabel + Annie Gregoire + Aranzazu Fernandez + Ashmi Thapar + Belen Duran + Carol Mancke + Dan Knight + Dominic Thurston + Douglas Cape + Ellen King + Ginevra Chelli + Hannah Zafiropoulos + Jeni Be + Jessica Barker-Wren + Judith loesing + Kristina Rapacki + Laura Mark + Margit Kraft + Natalie Savva + Paul Martin + Rebecca Faulkner + Sam Belinfante + Sandra Djukic + Sara Mognol + Stephen Graham + Thomas Boudier + Toby O'Connor + Toni Gutman. Last words by James Wignall
Artists