Royal Academy Presents: Experiencing Architecture – Inviting Dialogue. Musarc at Walmer Yard, 21 April 2018
Workshop Programme
9 Jan — 17 Apr 2018
School of Art, Architecture and Design, LondonMet
ARCHIVE
Events
Saturday 21 Apr 2018, 6.30pm
Walmer Yard, London W11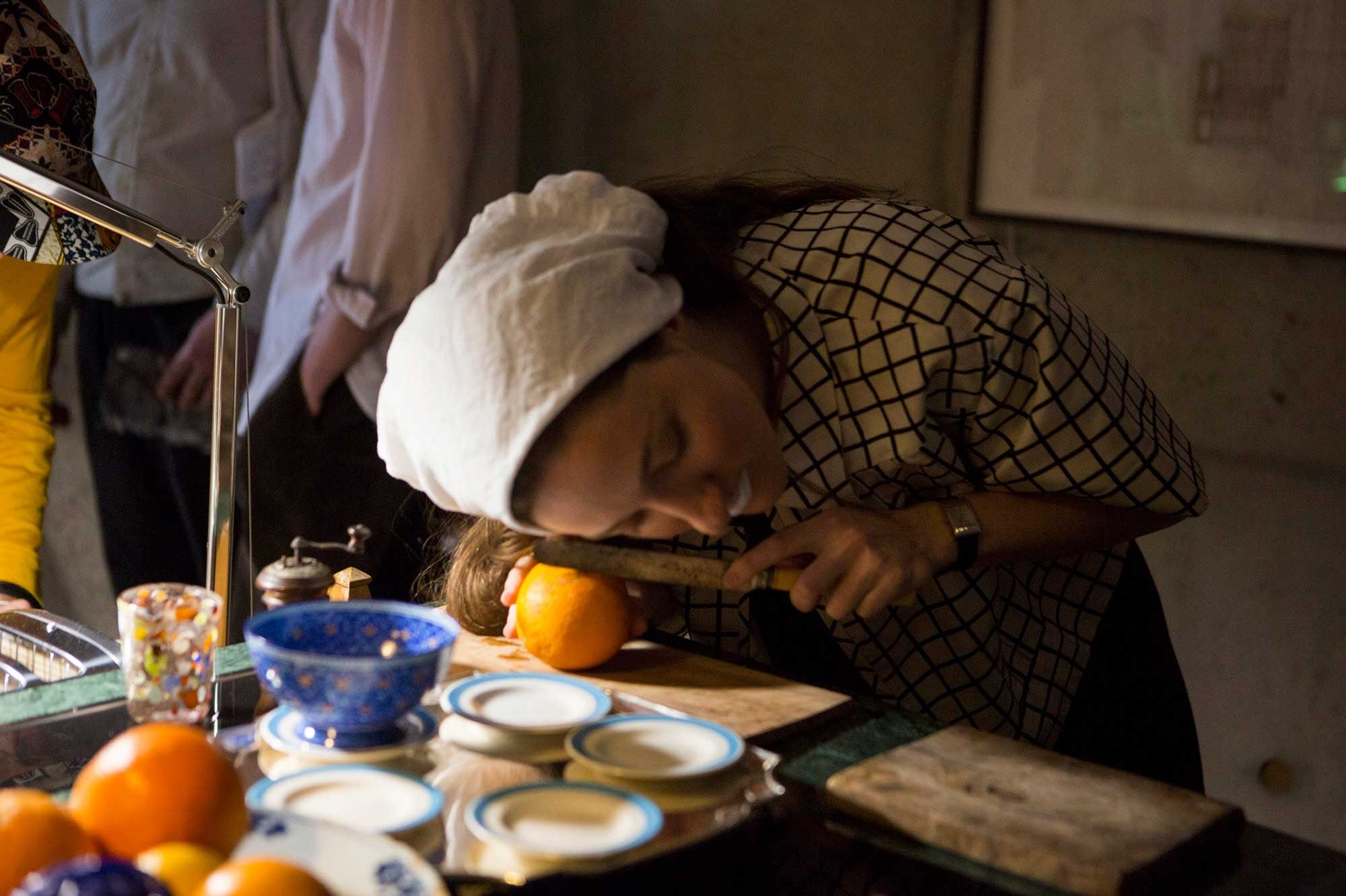 Domestic Conversations. Musarc performing in the kitchen, Walmer Yard. Photo: Yiannis Katsaris
The Royal Academy hosts two events that explore the dynamic and reciprocal nature of architectural experience. The title — Experiencing Architecture: Inviting Dialogue — is both a reflection of the event's intention and the belief that a meaningful experience of architecture is one that results in a reciprocal and evolving relationship with the spaces we inhabit.
The event comprises two parts: one an experiential encounter, the other a symposium. In the first, which takes place on a Saturday evening, a dialogue will be invited through an experience of architecture – an exchange between building, visitor, and performer. Participants will be invited to inhabit and occupy the four houses of Walmer Yard, designed by Peter Salter, while experiencing performances that experiment with the possibilities the houses offer for sound, narrative, and movement. This experience will be followed by a symposium, lasting all of the following day, at the Royal Academy. The symposium will put the night's events into context as part of a programme of presentations and discussions.
Musarc has been invited to develop a site-specific performance that engages with Walmer Yard. Our response was to work around the peculiarity of Walmer Yard's plan and materiality; its place in the city; but especially the domestic aspect of the buildings in the context of a public performance. The ensemble has developed three short vignettes which involve (the sounds of) cooking, bells, bouncy balls, and poetry.
Read more on the Royal Academy website.
Venue
Royal Academy presents:
Experiencing architecture—inviting dialogue
Musarc at Walmer Yard
Saturday 21 April 2018, 6.30pm
Walmer Yard
235–239 Walmer Road
London W11 4EY