Pfeiffertag. Musarc Folk Meet on a Midsummer Day Until Dusk IV. St Paul's Bow Common, 24 June 2023, 6.30–Sunset
Workshop Programme
6—23 Jun 2023
School of Art, Architecture and Design, LondonMet
Pfeiffertag (Piper's Day) is Musarc's fourth Folk Meet on a Midsummer Day Until Dusk. Doors open at 6.30pm to a space flooded by afternoon light. As evening falls, audience and singers attune to the darkness, their senses seeking out different, smaller sounds and other objects in the changing atmosphere of the auditorium. The event ends by candlelight, just after sunset.
The programme this year brings together works Musarc has traditionally performed on the occasion – including a solfège version of Terry Riley's In C (Riley was born 88 years ago on the concert day), Olivier Messiaen's O Sacrum Convivium and Lin Chiwei's Tape Music, Score for Musarc (2015) – with new works by long-standing collaborators and members of the ensemble.
Composer and flautist Jan Hendrickse has been making, and developing a new work for, overtone flutes with us. Neil Luck's LIEF is a meditation on the efficacy of leaves and grasses as instruments. Ashmi Thapar has written a number poem for the choir. The ensemble, which has been engaging in forms of social writing since 2016, has written a new text to be performed with the audience in a congregational reading.
Pfeiffertag takes place in one of the country's most beautiful modernist churches. The performance starts at 7pm. The setting is informal and convivial. Breaks between performances offer time to talk and eat. There is no fixed stage, and the performance arrangements will change as the evening progresses. The audience is invited to move around, stand or sit on the floor. Blankets will be provided in addition to benches.
The bar and food stall will be open all evening. There will be no artificial lighting in the space. The audience will be given candles to illuminate the auditorium as darkness falls. The concert is expected to finish after sunset, which on the day is around 9.30pm. Children are welcome and go free.
Pfeiffertag has been conceived by Joseph Kohlmaier, Musarc's Artistic Director, in collaboration with the ensemble and artists. Patricia Auchterlonie is Director of Music for the programme.
Images from Musarc's Midsummer Folk Meet II, Truman Brewery, 2016. Photos by Yiannis Katsaris
St Paul's Bow Common
St Paul's Bow is one of London's most beautiful and welcoming public spaces. Designed in 1960 by Maguire and Murray, the building is considered a Brutalist masterpiece. In 2013, it won the National Churches Trust Diamond Jubilee Award for best Modern Church built in the UK since 1953.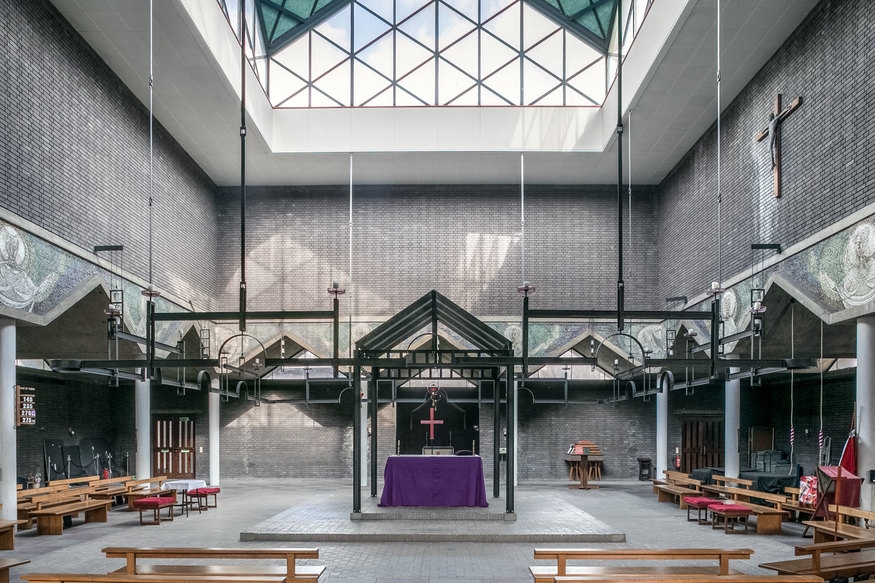 St Paul's Bow, by Maguire and Murray, 1960.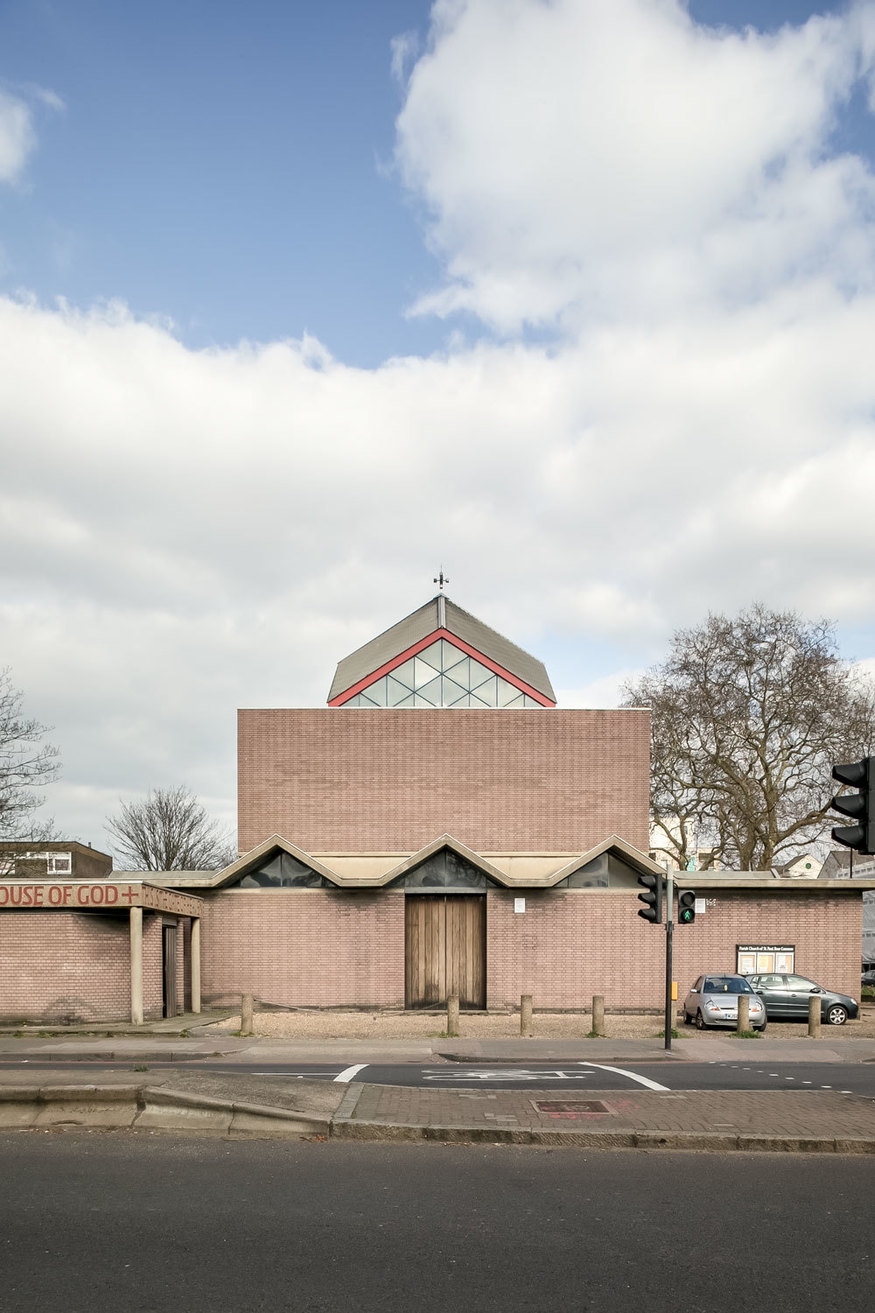 Unlike other churches in London, St Paul's remains a civic space and a continuation of the city, open all day to the community and passers-by for contemplation or as a refuge. It is is a town square, able to process the assembled detritus of the people and things that pass through it. Benches surround the altar, alongside crayons and nursery chairs, two pianos, a coffee machine, a box of home-made instruments, cushions, cleaning paraphernalia, stacks of chairs and trestles, extension leads, Ikea bags overflowing with stuff for the next jumble sale, balloons from a christening, flowers. From the ceiling issue two bell pulls and salt weeps through two cracks in the concrete, forming small stalagmites on the floor that look like patches of snow.
Its dignity lies in its complete disregard for barriers, security and corporate balance sheets. St Paul's has offered Musarc time and space to rehearse and perform in return for a donation. The choir would like to thank the church and its guardian, Mother Bernadette Hegarty, for its generosity and welcome.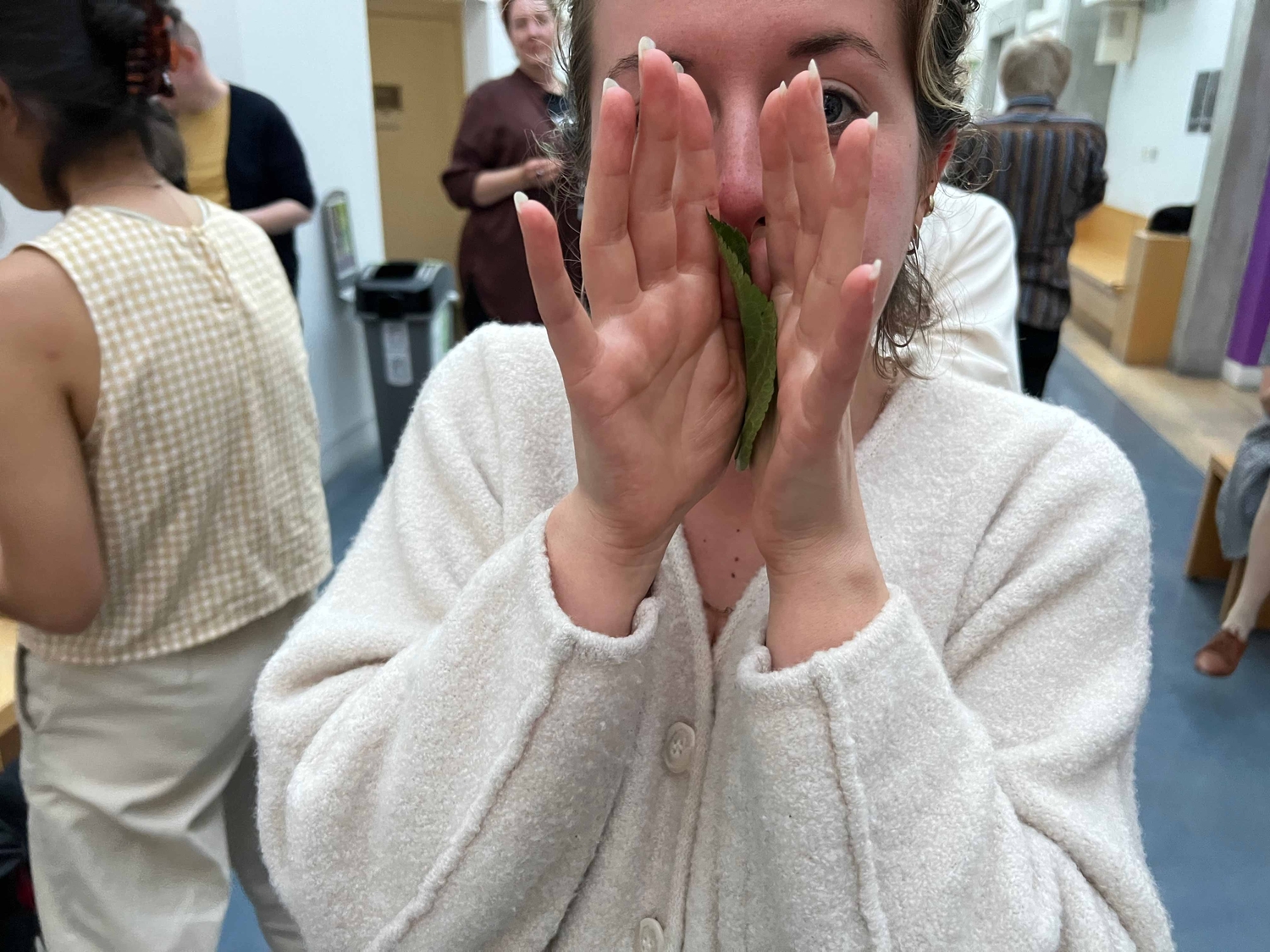 Rebecca Faulkner playing a leaf during rehearsals with Neil Luck, London Metropolitan University, May 2023.
Venue Information
St Paul's Bow Common
Burdett Road
London E3 4AR
Google Maps
Nearest Tube/Rail: Mile End (9min) and Limehouse (15min)
Busses: 277, D6, D7, N277
Tickets
£5 Tickets are available on the door.
Card payments only, also at the bar.
Children are welcome an d go free.
To help us plan drinks and food, please register your attendance here.
Donations in support of Musarc's artists and ensemble programme are welcome.
Artists